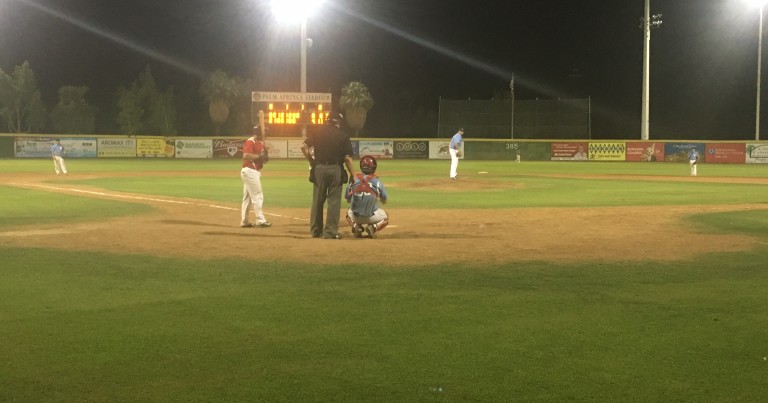 PALM SPRINGS, Calif. – Tonight the POWER could not hang on as they dropped the fourth and final game of the four-game series with the San Diego Force. This split of the series makes the POWER's conference record 4-4 on the year with an overall record of 15-6.
The starting pitcher for the San Diego Force Jayson Yano had a terrific outing. Yano went four innings giving up two earned runs off of seven hits. The starting pitcher for the POWER, Ryan Avila (Riverside CC), did not have his stuff tonight as he only went 2.2 innings giving up three earned runs off of four hits. The POWER would also throw Matt Acosta(Riverside CC), Jordan Wood(BYU), and Jack Rude (Samford University) throughout the rest of the game.
The San Diego Force had a great offensive night as they strung together 10 runs off of 10 hits including a towering solo homerun by the designated hitter Joe DeRoche-Duffin in the 5th inning. Big offensive night also came from Andy Smith who went 2-4 with a run scored and two RBI. Another big contributor to the Force's night was Alex Sawlson who finished 3-5 with a run scored and two RBI.
The main story line of the night for the POWER was the big offensive night by John Mauldin (Baton Rouge CC) and the horrific defense. John Mauldin still showed up tonight like always as he officially went 3-4 with two runs scored, two doubles, and a two-run homerun. John Mauldin now has 11 doubles on the year and is on pace to shatter the single-season doubles record of 15. The POWER defense was lackluster tonight as they had seven errors in the field.
Palm Springs broadcaster Clinton Cole caught up with John Mauldin after the game. When asked how the team is going to regroup after this tough conference loss Mauldin had this to say, "We need to come out hungry. We need to play a little ticked off. Hopefully we play with more energy."
The POWER are back in action on Friday night at 7:05 pm with more conference play as they will have a two-game series against the Arroyo Seco Sentinels.
Saturday's game is Kid's Appreciation Night at the ballpark brought to you by Jack in the Box so kids 12 and under get in for only $1!