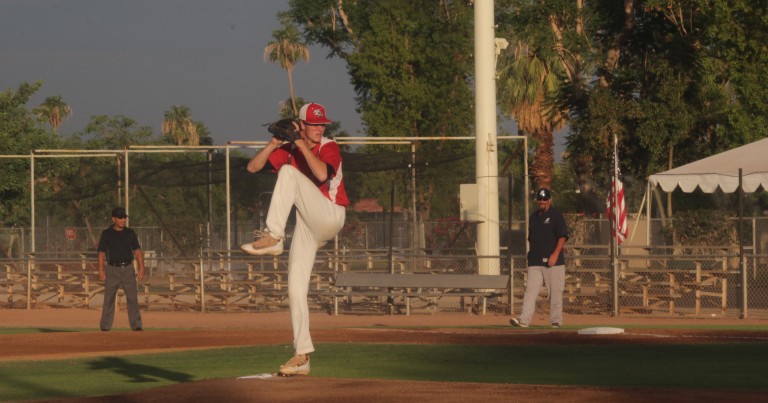 PALM SPRINGS, Calif. – After sitting through yesterday's loss, Jordan Dreibelbis was determined to end the losing streak at one game. He tossed nine innings of four-hit ball, only allowing two runs for a complete game, 3-2 victory for the POWER.
The POWER kicked off their first scheduled conference game with a win against the slumping 2-10 Arroyo Seco Sentinels. The Sentinels trotted out right-hander Scott Bellina, who went six innings and struck out four. After allowing two runs in the first three innings, Bellina seemed to settle in nicely until the sixth when Brock Hale hit an inside-the-park home run which would be the difference maker in this one.
Clinton Cole spoke with Hale after the game to ask him about his big homer, "I knew it was deep into center with no backup, once I saw it get passed him I put it in another gear to get that run home," said Hale.
On defense, Cole Danielson flashed the leather turning two double plays in the third and fifth innings, killing both Sentinel rallies they had in place.
Kaleb Foster had a big day for the POWER on offense, going 3-for-3 with a double, an intentional walk and a big RBI in the second inning after getting the day off yesterday.
Jordan Dreibelbis improved to 3-0 on the year and the POWER will look to continue their winning ways tomorrow night in game two of this two-game set with the Sentinels as Cameron Neff is scheduled to take the mound at 7:05.
The Palm Springs POWER would like to remind fans that tomorrow night is TruAge Cap Night, the first 200 fans to the stadium will receive a free hat!