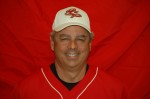 Dan DiPace is the Director of Player Procurement for the California  Winter League and an Associate Scout for the Atlanta Braves.  DiPace joins POWER Manager Harry Gurley's staff as the hitting coach and offensive instructor.  He will coach third base for the POWER.
Dan has a long, storied history with professional baseball.  He was signed as a shortstop for the Los Angeles Dodgers in 1963. He went on  to win a league championship with the West Carolina League in 1964  and in 1965 was the first player selected in the first Minor League Draft  by the Minnesota Twins.
DiPace led the Midwest League in hitting (.333), hits and runs scored for the Wisconsin Rapids. In 1966 he also led the Carolina League in hitting (.330).
From 1985 to 1991, DiPace was an associate scout for the Montreal Expos and then began a long career as an associate scout for the Atlanta Braves in 1996, a position that he still holds.
DiPace also has a long history of coaching, beginning in 2000 as the first base and hitting coach for the Aberdeen Arsenal. In 2002 he became the first base and hitting coach for the Allentown Ambassadors in the Northern League, and the Long Beach Armada in 2005.
DiPace was the first base coach for the Orange County Flyers in 2007-2008, winning the 2008 Golden Baseball League Championship. In 2009 he came to the California Winter League where he was an assistant coach for the Palm Springs Chill.
In the winter of 2010, DiPace served as the coach of the Canada A's of the CWL . He was also the hitting coach for the St. George Roadrunners of the Golden Baseball League in the 2010 season.
DiPace returned to the California Winter League in 2011 and is looking forward to his first season with the Power this summer as assistant coach.