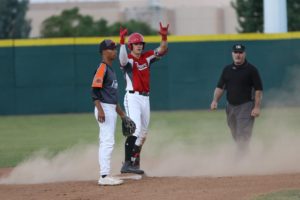 Palm Springs, Calif. – When Yorba Linda native Bryan Leef finished the summer season in 2019 with the Chill, he'd already been lauded as an impact transfer to University of the Cumberlands, finishing the 2019 season an NAIA All-American Honorable Mention and later earning PSCL MVP.
Now, in 2021, an extra year of eligibility granted Leef the chance to solidify his status as a professional prospect, and by turn, a local legend.
In 2021, Leef was named an NAIA All-American, Mid-South Conference Player of the Year, and finished as the Cumberlands Patriots' all-time program leader in home runs. His 29 home runs this season tied the lead in NAIA ball, and paced the Division I lead by six. Leef's 2021 total even matched his long ball output from his first two seasons at Cumberlands.
Now, he returns to Palm Springs as a full-time member of the Power, already tallying four hits, two runs, and an RBI in the season's first two contests.
Catch Bryan Leef in action with the Power this season! The Power continue the 2021 schedule against the Inland Valley Buccaneers on Wednesday, June 16th at Palm Springs Stadium. Gates open at 6:00 pm.