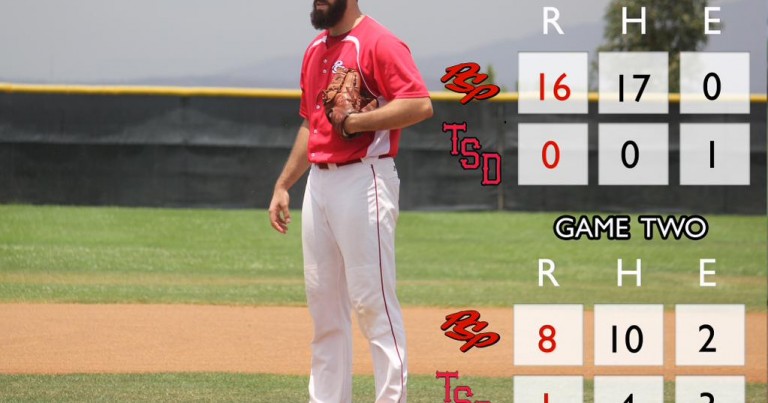 By: Andy Humphrey
PALM SPRINGS, Calif. – The Palm Springs POWER didn't use a single relief pitcher Monday in their road double-header against Team San Diego. Luke Barker and Keaton Cenatiempo both notched complete games en route to the POWER's 16-0 and 8-1 victories.
Barker stole the show in Game 1 throwing the first perfect game in POWER history. The right-hander from Chico State recorded the first perfect game of his career and struck out 11 batters. Barker improved his record to 2-0 this summer and finished all nine innings on 92 pitches.
The offense kick-started quickly with seven runs in the first three innings. Chad Clark drove in the first two runs with an RBI single that scored Ryan Raslowsky and Zach Davis.
Miles Bice added another RBI single in the second inning, scoring Raslowsky, who finished with three runs scored in the game. Raslowsky followed that up with a two-run RBI double in the third inning, plating Daniel Sander and Cody Gaertner.
In the fifth inning, Court Iorg drove in Bice to make the score 9-0. Dylan Garcia blasted the first POWER home run of the season, a three-run shot to right field, making the score 12-0.
Garcia and Connor Hornsby drove in three more runs in the sixth to lead 15-0. They scored in each of the first six innings of the game.
Cenatiempo shined in his Game 2 start for the POWER. The right-hander from BYU allowed one unearned run on four hits, with one walk and 11 strikeouts. Cenatiempo recorded his second complete game of the season and the fourth for the POWER pitching staff this year. He threw 103 pitches and improved his record to 3-0 this summer.
In Game 2, the POWER bats didn't cool off. The POWER tallied six runs in the third inning, with Clark, Dillan Smith, Nick Jackson and Raslowsky each driving in a run.
In the eighth inning, the POWER tacked on a couple more runs. Bice drove in Raslowsky on an RBI single, and then scored himself later in the inning on a wild pitch.
With the double-header sweep, the POWER are now 19-7 overall in 2015 and 8-2 in SCCBL play. They will return home Tuesday at 7:05 p.m. to start a two-game series with the Arroyo Seco Saints. Tuesday night will be $1 Beer Night at Palm Springs Stadium presented by Tahquitz Creek Golf Resort.