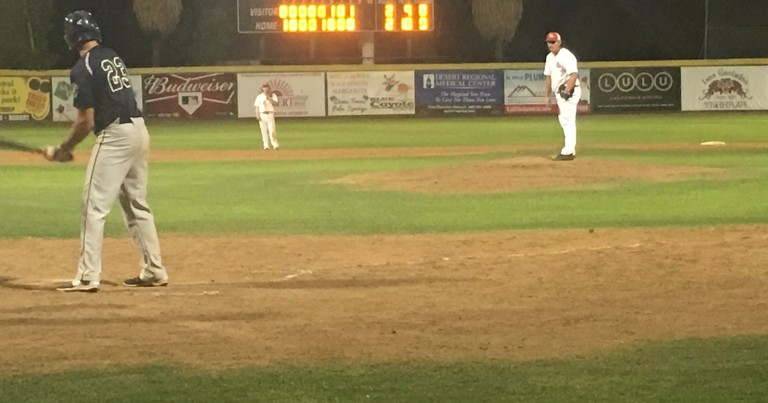 PALM SPRINGS, Calif,- The 9-12 Arroyo Seco Sentinels challenged the Palm Springs POWER at Palm Springs Stadium tonight to kick off a two-game conference series.
Arroyo Seco started Scott Belina who pitched and lost the last time these two teams faced off on June 19th. On the mound for the POWER, was local right-handed pitcher, Morgan Earman. It was Earman's first appearance as a starter this season.
The scoring would start early as the POWER hit three consecutive first-inning singles to start the game, the last of which came from power-hitting John Mauldin. That base hit would drive in Kobie Foppe to make the score 1-0 POWER after the first inning.
While Morgan Earman was in true form, shutting down Arroyo Seco's hitters, the POWER bats would be quiet until the fifth inning as well until John Mauldin would drive in Foppe again on yet another base hit.
Heading into the sixth inning, the score would be 2-0 POWER, but the Saints would attempt to levy a comeback. Chris Collarossi of the Sentinels would reach after being hit by a pitch and work his way around the bases with a steal and a bunt to aid him. While at third, Gabe Chavez would go to steal second, drawing a throw from POWER catcher Reece Lucero, allowing Collarossi to score.
It would remain 2-1 until the eighth inning when an RBI single from Arroyo Seco's catcher Justin Bardwell, to tie the game and send it into extras.
With Monday's 17-inning loss fresh in Palm Spring's minds, they looked to end the game quickly and Brock Hale would be the man to do it. He drove in Colby Schultz with a walk-off RBI double in the bottom of the 10th to win the game.
After the game, Hale didn't rest on his laurels and was looking ahead to the other conference match-ups down the road.
"That's one, there's seven more to go."
The POWER are now 16-6 on the summer and 5-4 in the SCCBL.
Game two of the series is scheduled for Saturday night at 7:05. Saturday is also kids day, brought to you by Desert Air, where kids 12 and under get in for just $2.