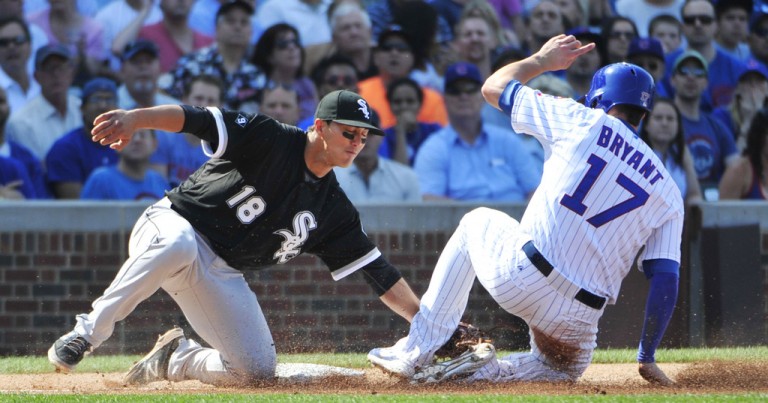 PALM SPRINGS, Calif. – As we close in on the halfway point of the season, the 2016 Palm Springs POWER could be closing in on some records of their own.  The POWER started play in 2004 and many of the team records have been eclipsed by current MLB talent over the past five seasons. Let's take a look at some team and individual records and see which ones the 2016 club could potentially break this year.
Doubles, single-season: Jake Howeth (2014), 15
Jake Howeth broke the single-season doubles record set by T.J. Bennett and Tyler Truitt (12) in 2013, while batting .304 and smashing 20 extra-base hits in a 41-8 season for the POWER. Just fifteen games into the 2016 campaign, Baton Rouge CC outfielder John Mauldin is on pace to break Howeth's record as nine of his twenty hits have gone for doubles. Mauldin is sporting a whopping .426 average to go along with nine stolen bases, as well as a steal of home.
Triples, single-season: Tyler Saladino (2009), Ryan Garvey (2011), Jake Howeth (2014), 5
Triples are hard to come by for any player, as the record for triples in a single-season has been set at five over three different seasons. Current Chicago White Sox shortstop Tyler Saladino set the tone in 2009 with five, but LSU standout Cody Ducote is knocking at the door with four triples already this season. Ducote has seven extra-base hits and ten runs batted in to go along with a .385 average in 39 at-bats, as he will have his share of opportunities to tie or even break that record with 19 regular season games remaining.
Batting Average Against, Strikeouts, single-season: Matt Anderson (2012), .120, 95
When it comes to pitching records, it's tough to even come close to the records set by Seattle Mariners farmhand Matt Anderson in 2012. The current Jackson Generals' (AA) pitcher dominated that year, as the next closest BAA record is at .143 in 2009 set by Bryan Longpre. The strikeout record seems pretty unattainable as well, as Ryan Santhon would've needed 30 more strikeouts in 2011 just to tie Anderson's.  The current POWER squad has some well-regarded arms that most likely won't reach any of these records, only because they don't have as many games scheduled as in years past. But that isn't to take away from this year's pitching staff, College of the Desert's Jumpei Akanuma and Western Nevada's Jordan Dreibelbis are pitching at nearly a strikeout per inning pace through three starts each.
The POWER have about half of their regular season schedule remaining with their focus entirely on winning a championship for the sixth season in a row. Should Mauldin or Ducote be able to attain any personal accolades this year, surely they will have done so with the "team first" mindset, just more reasons to make the Palm Springs POWER a top destination for future major league stars of tomorrow.