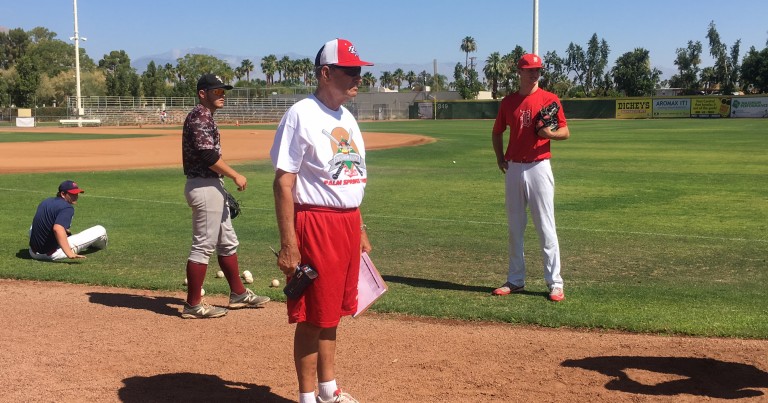 PALM SPRINGS- Early Monday morning, the Valley's local talent came out to historic Palm Springs Stadium in an effort to make the final POWER roster for the 2016 summer season.
The players were greeted by the peerless coaching staff, including veteran manager Harry Gurley who has led the team to seven SCCBL championships, and briefed on the expectations this program has for incoming players.
Numerous college players came out to compete, four of them teammates from College of the Desert. Players from Vanguard University, La Sierra University, and Antelope Valley College also made it out to the stadium.  
The meet-and-greet portion of the workout did not last long, and they moved on to drills. Coach Bob Boetto led the college prospects through a 60-yard dash, infield and outfield work and then had them take batting practice. At the same time, coach Gurley recorded the young pitchers on a radar gun. The talent was apparent as each player made impressive plays.
After a short but intense workout, the players left. Despite the skill on the field, the roster is mostly full, so it will be tough to make the 2016 squad according to head coach Casey Dill. 
The 2016 POWER season kicks off Friday night at home against the So Cal Catch with fireworks following the game.